Here is Roxy – a young female boxer that came in to the clinic in mid-February with a history of eating bark, vomiting and depression. Her history, her physical exam, bloodwork and her xrays supported the possibility of a bowel impaction/obstruction, so off to surgery we went.
You can see from this pre-op photo that she is definitely not her bouncy-boxer self. We have just placed an IV catheter so she's ready to be hooked up to IV fluids and given anesthesia.
---
Here's Roxy's abdominal radiograph; she's on her side, head to the left. You can see her ribcage on the left and spine across the top in order to get some orientation. The BIG dark area farthest to the left is her chest cavity; the large upright oval is her empty stomach, and to the right of that, the "lots of little black areas all wadded up" are her gas-filled intestines. It's that particular gas pattern that pretty much confirmed that we needed to get her to surgery as soon as possible.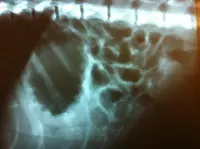 ---
Here we are mid-surgery. Assisting on the right is tech-in-training Chelsie Wise; she had the all-important job of holding the area of bowel containing the obstruction so that nothing from the lumen of the bowel leaked into and contaminated the surgical site. Yours Truly on the left pulling bits of organic matter out of the small intestine (the ileum, if you want me to be specific). I had to incise the bowel in 2 areas to remove all the junk.
---
And…here's the stuff – at least, some of it, already stowed away into a baggie to show Roxie's owners.
---
Here's Roxy one day post-op – feeling a little puny, still, but with a normal temperature, normal white blood cell count and the beginnings of an appetite. She wasn't quite ready to smile for the camera, though technician Cassie Bryant is doing her best…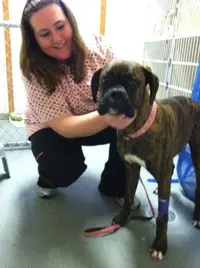 ---
OK, MUCH better! 10 days post-op, here's that big old boxer grin (it was tough to get her to hold still long enough for a good photo – she's actually much prettier than this, but I liked the funny angle!).